I wish I had a large living room.
Living in a tract house built by a regional builder means I have a tiny living room. Its dimensions are Lilliputian, being only 10'6" by 11'9". I could have been smart and combined two rooms to make a larger living room as Sarah Richardson did.
But I have two dining tables and a buffet a deux corps both of which require some space. Plus, I like having a formal eating space and our plan doesn't have a second dining room as the one Sarah Richardson modified.
Though it would be nice to have a room large enough to have a Baby Grand Piano...
Just having a room large enough to house a Christmas tree, without having to make major furniture arrangements, would be nice.
Our living room has evolved since we have lived here. We didn't have a formal space in our house in Tulsa, so there was little furniture to put in the room. Paint, Benjamin Moore Ashwood, OC-47,
moiré taffeta drapes, a couple of Martha Washington chairs and a skirted table on builder grade carpet was the starting point.With only one switched plug in and one lamp, there was a serious lack of lighting in this room. The pelmets were placed nearly a foot above the tops of the windows, which emphasized the ceiling height.
Majolica fabric pelmets and a leaning Christmas Tree
The drapes were changed out for wooden blinds, which added more privacy.
Preparing for new flooring
Structural concerns, i. e., replacing the lowest-end-builder-grade carpet with maple floors was next on the agenda. And yes, Mr. Kitty proceeded to claw the chairs sending them back to their original state nearly the moment the chairs came back in the house after being reupholstered. With just two chairs, the room barely functioned and looked even smaller.
I fell in love with egg prints from the Old Dominion Showhouse. I knew that I had to make room for those in the living room.

I found antique egg prints on eBay and, after matting and framing them, they were installed in a symmetrical gallery arrangement on the main wall.
I like to create "matelots" using my home design software and Photoshop.
I looked at several options for a sofa in this room. Given the dimensions, there were limitations for how big it could be. Putting a table at either end would take about 40-60" out of the room, leaving about 66-86 inches for the sofa.
I was having a Jeffrey Bilhuber moment, and decided to try an orange ceiling for the space, at least in the images! Lots of hemming and hawing and back and forth then one of these lovelies came up on sale at the Restoration Hardware Outlet!
This settee in a gray finish won the settee challenge. Now there was paint, window covering, and two chairs in the room. I tried slip covering the chair which worked, sort of, but not really well. If you are getting the sense that this room was mostly used for Christmas, you would not be wrong. That was another issue to resolve: though it also functioned as a music practice room, the room was used for very little else. This room was the one we passed by on our way to somewhere else.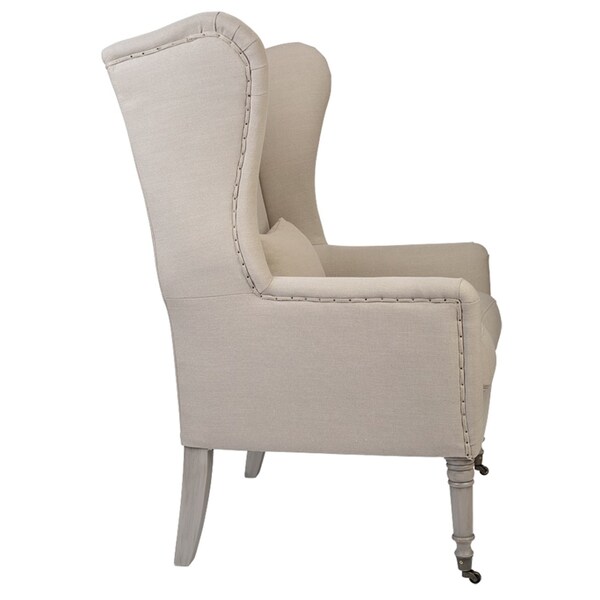 I decided to quit fighting the chair upholstery issue and buy new ones. Though it may seem that I was just throwing another gauntlet down in the cat clawing showdown, I noticed that the cat only liked to claw shred chairs that other cats had clawed. I also vowed to stay on top of trimming his claws. Yeah, right, it could still happen! After a lot of thinking and pondering, these chairs were chosen from Overstock.


The detailing around the arms and back won me over and tipped the balance in their favor. Rounding out the furniture was bamboo tables from Joss and Main, a black metal table found on ebay, and Cyril Glass top table with a Warren Platner look to it, another Overstock purchase,





...and then another thing happened. Our daughter finished Law school and moved home to study for the bar exam. Of course,her furniture came with her. An Ektorp Jennylund chair, two parsons tables, a Strind side table, two lamps purchased for her living room from HomeGoods, and a Target lamp were incorporated into the room.
Wow! That's a lot of furniture for a tiny room! It feels larger now. Nothing delicate or diminutive was used in the tiny room. Lots of small furniture just makes a small room cluttered.